Ultra Premium Coffee Roasters. Patrona Coastal Cafe and Roastery now open! Enjoy coffee freshly roasted in-house while relaxing on the Tampa Bay waterfront.
The Patrona Coastal Café is Patrona's signature coffee shop situated at a scenic location on the beautiful Tampa Bay. All our beans are roasted fresh in-house. It is the perfect place to experience a Patrona espresso or cold brew right where it all began.
Located at 13090 Gandy Blvd N, St. Petersburg, FL 33702
Hours
Tuesday – Friday 7:30 AM – 1:30 PM
Saturday – Sunday 8:30 AM – 1:30 PM
Closed Monday
---
Set in the backdrop of pristine, coastal views of Tampa Bay, Patrona Coastal Cafe and Roastery opened earlier this year at 13090 Gandy Boulevard bringing St. Pete locals delicious breakfast offerings and international coffees.
The open-air café is where all the coffee magic happens, quite literally. Owner Eva Capo sources and roasts all beans in-house for the brand. Visitors can pull up to the scent of Guatemalan signature roasts brewing, reggae music playing, and palm trees framing views of the bay. You might even catch a glimpse of a passing dolphin or manatee with your coconut latte.
Patrona Coffee started in 2021 without a retail storefront. But when the opportunity arose to establish a café adjacent to the famed waterfront hangout, The Getaway, Owner Eva Capo knew she had to seize the opportunity to break ground on such a unique location — "It's the perfect ambiance for people to enjoy our coffee," shared Capo.
"We serve cold brews, frappes, as well as all the traditional espresso drinks. We also offer light food items, acai bowls, baked goods, and pastries," stated Capo. "As our name suggests, our vibe is coastal. Being completely outdoors, guests can relax under the palm trees and sunshades and enjoy the scenic views of the water. It is such a relaxing place to get work done or catch up with friends. And of course, great coffee."
Patrona, which literally translates to "boss lady" in Spanish, pays homage to the cultural significance of the female matriarch as well as the women from Guatemala who play a significant role in the Guatemalan coffee farming industry. As stated in their mantra, "Our signature coffees are a salute to all the women leaders, entrepreneurs, visionaries, and those aspiring that have the grit and grind to take the road less traveled and own it."
The café's interior design is also Guatemalan-inspired, with a large mural by local St. Pete artist David Rothman featuring a woman in the landscape of the Guatemalan coffee fields. Rothman's art is also incorporated into their packaged coffee which is available for sale.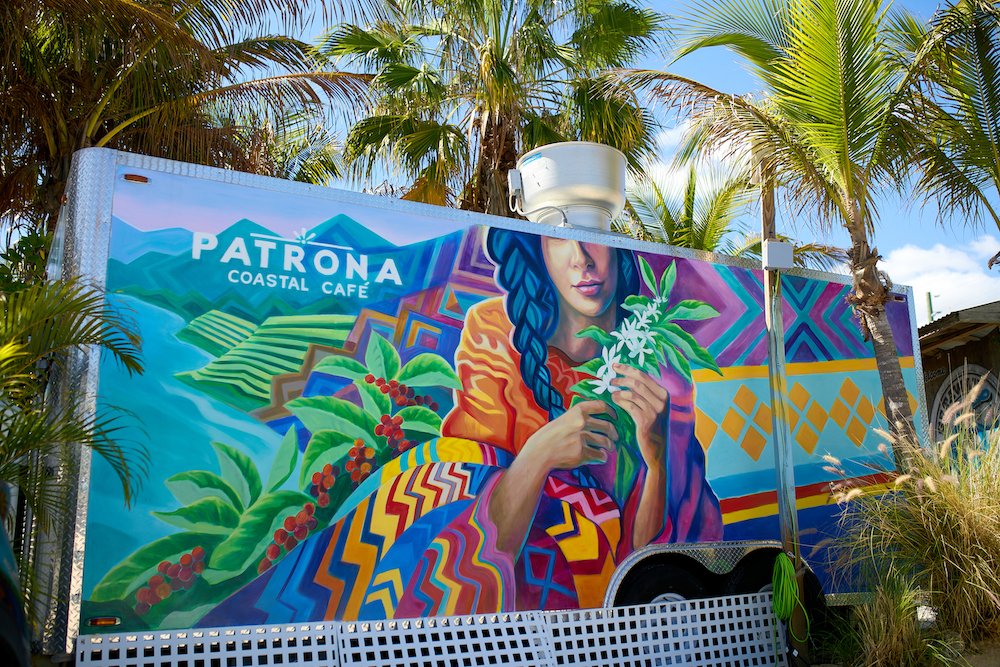 Menu highlights include signature cold brews that come topped with whipped cream and edible flowers, as well as the "Rooster Booster," which is one of their Morning Crow Espresso shots sweetened with brown sugar and topped with whipped cream and cinnamon.
Don't forget to order one of their homemade cinnamon rolls, or "Schnecks" as they call them. For first-time visitors, Capo recommends ordering an avocado toast with tomato and balsamic, along with the "The OG" cold brew or an iced latte.
"As a woman-owned company, we definitely speak to businesswomen, entrepreneurs, and maybe even more importantly, those aspiring to be," continued Capo. "Being women owned and geared to promoting women, we think we have a lot to offer the community. We've already hosted [events and] hope to do more, but as it relates to the café, any time you can create an outdoor space for people to enjoy and work in, I think you're bringing something valuable to the community."
Patrona Coastal Cafe and Roastery is now open at 13090 Gandy Boulevard North in St. Petersburg. They are open Tuesday through Friday from 7:30 am to 1:30 pm, Saturday and Sunday from 8:30 am to 1:30 pm, and closed on Mondays.
Be sure to follow them on Instagram and Facebook and to visit their website to learn more about events and menu offerings.