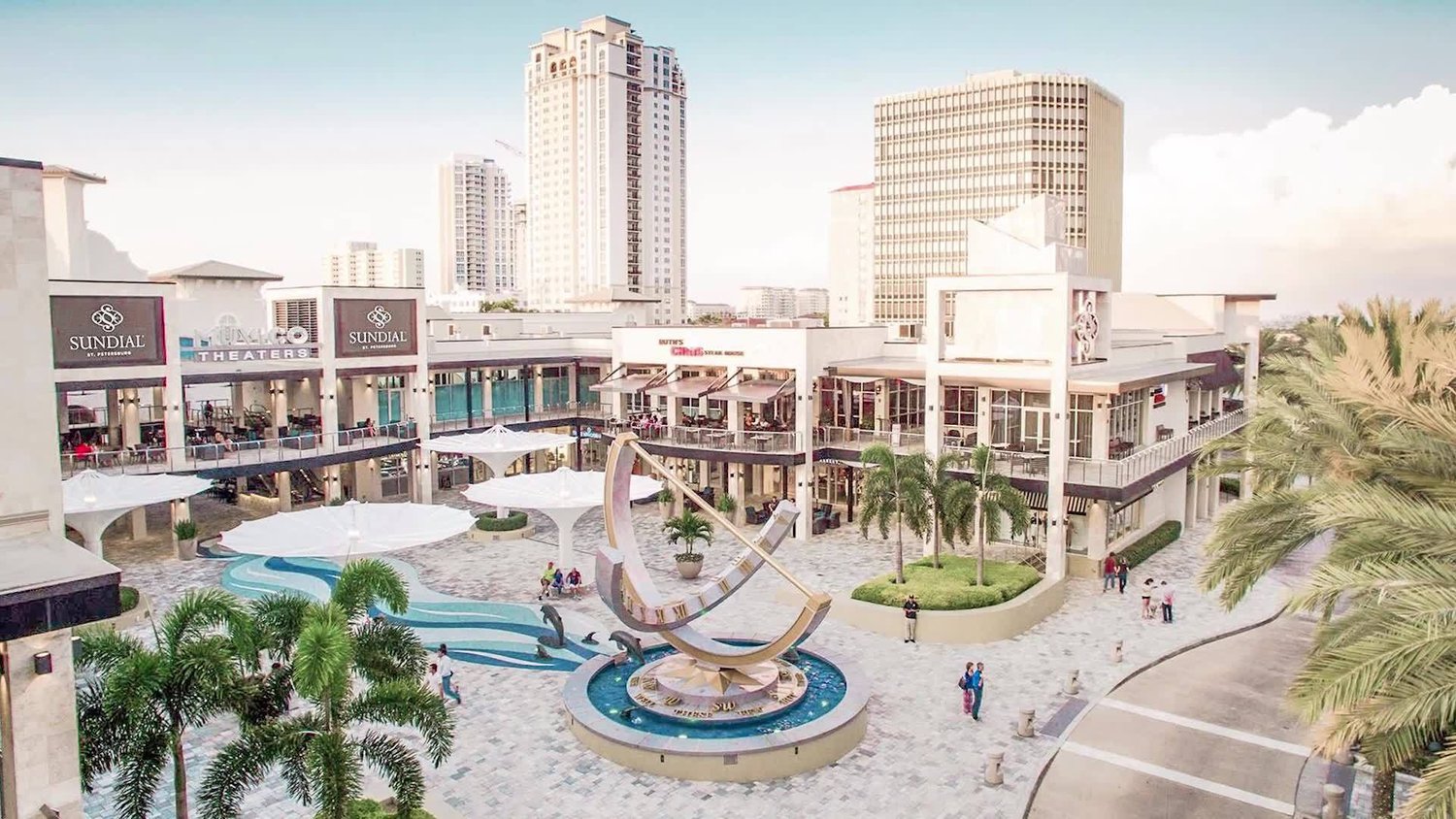 The Sundial shopping and dining complex, located at 153 2nd Avenue North in downtown St. Pete, is under contract to be sold. The 85,357 square foot center is scheduled to change hands on February 17th for just over $27.5 million.
The buyer is PV-Pelican Walk LLC, a limited liability company managed by Charles Ernst, Vice President and CFO of Safety Harbor-based Paradise Ventures.
Paradise Ventures has over three decades of commercial real estate experience in Tampa Bay and has developed over 5,000,000 square feet of retail space in Florida and across the nation. In December 2019, Paradise Ventures purchased a 17,760 square foot mixed-use building at 695 Central Avenue in downtown St. Pete.
Sundial, which sits on 2.2 acres of land, is currently owned by St. Petersburg business magnate Bill Edwards, who bought the property in 2011 for $5.2 million. Shortly after purchasing, Edwards spent over $40 million transforming the old BayWalk into an incredible retail destination.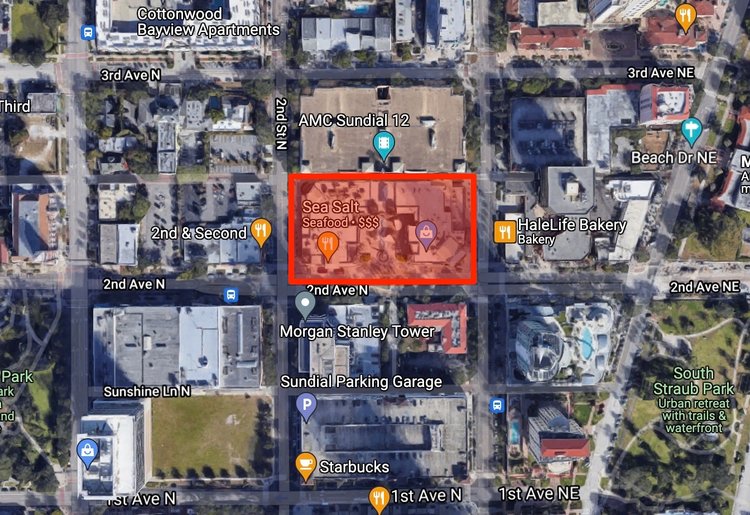 The shopping center reopened in 2014 under its new name, Sundial, and anchored by the expansive Locale Market, Ruth's Chris Steakhouse, Sea Salt, and a collection of other shops, such as Marilyn Monroe Spa, Chico's, White House Black Market, and Diamonds Direct.
"Bill Edwards created this retail jewel in the middle of downtown St. Pete. All we want to do is use our retail expertise to breathe new life into it," said Michael Connor, CEO of Paradise Ventures. "Bill Edwards has been great to work with on this transaction."
Although Paradise Ventures has had conversations with many prospective tenants, no new leases have been signed.
However, changes are coming soon to the property.
Paradise Ventures plans to convert an 8,000 square foot space on the east side of the second floor to an office. They are looking for a single tenant to lease the entire space.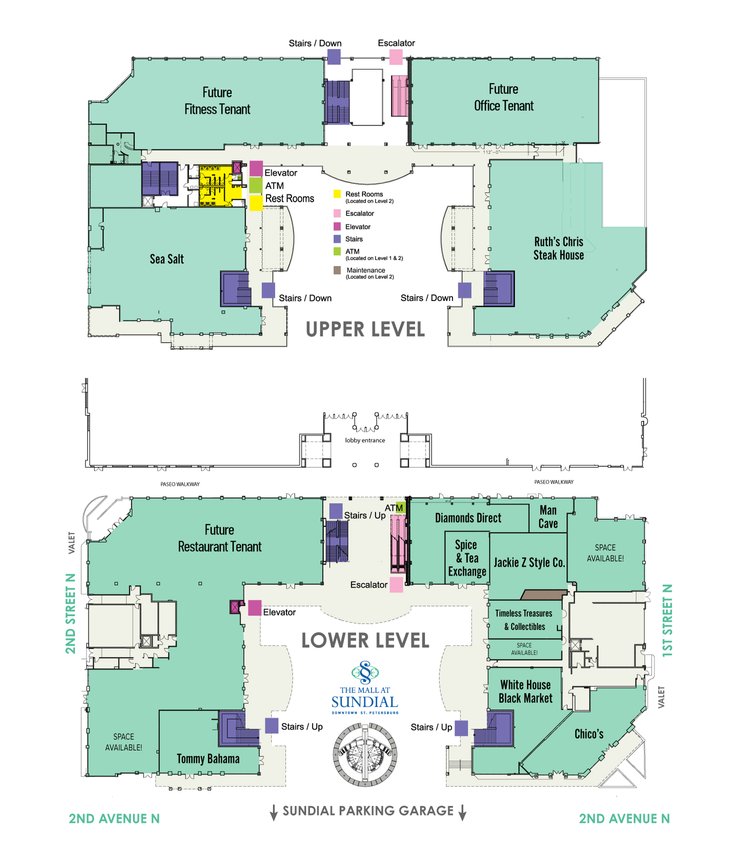 In the former Farmtable Kitchen space on the second floor, Paradise Ventures is looking to attract a fitness center.
Paradise Ventures also wants to fill the former Locale Market space on the first floor with two to three restaurants.
Other improvements are coming to the shopping center, but plans have not been finalized.
In preparation for the sale, City Council's February 10th meeting will address four agreements that the City has with Loan Ranger Acquisitions LLC, the limited liability company that owns Sundial and is managed by Bill Edwards.
Two of the agreements, pertaining to employee parking and the pedestrian corridor linking the Sundial shopping center with the Sundial Garage, will be assigned to the new owner, PV-Pelican Walk LLC.
One agreement that created a customer parking validation program will be terminated.
The last agreement, which outlines who will provide security to the Sundial Garage, will remain with Bill Edwards' company.
This isn't the first time Edwards has attempted to sell Sundial. An Avison Young team marketed the shopping center in 2015. Months later in 2016, The Chetek Group of Marcus & Millichap sent out an email blast calling for offers. Although there was interest, no sale ever occurred.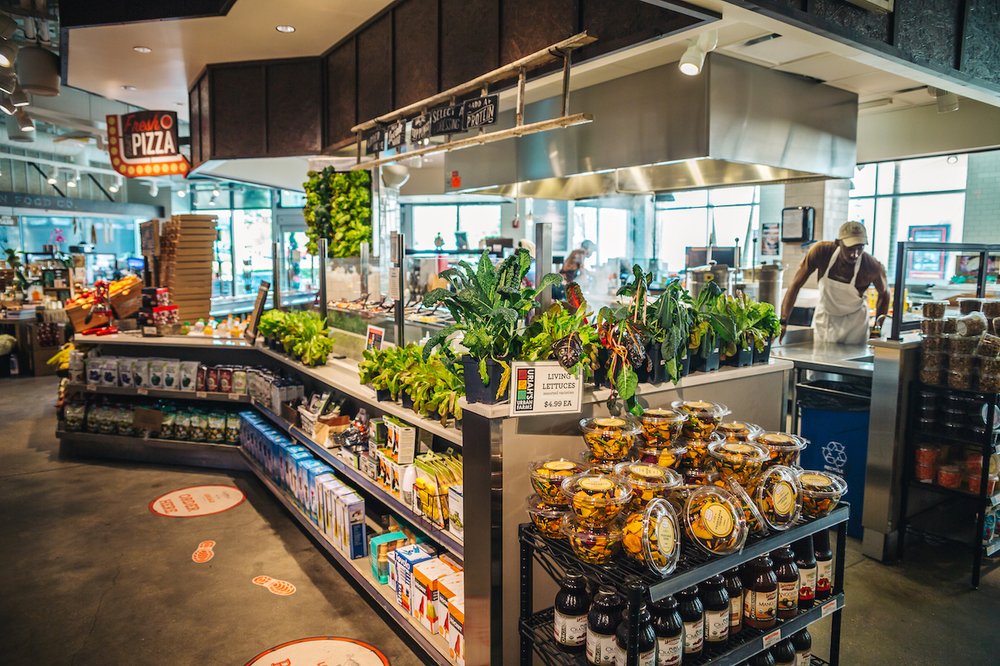 In 2019, Edwards leased one-third of Sundial to the team behind Armature Works, a 73,000 square foot mixed-use commercial space in Tampa consisting of the Heights Public Market, multiple event spaces, a co-shared workspace as well as multiple restaurants and bars.
The original plan was to renovate 25,000 square feet of Sundial into an impressive food hall similar to the Heights Public Market. The lease included an option to purchase the entire shopping center for $32 million.
A year later, after Edwards closed Locale Market, Farmtable Kitchen, and a handful of other businesses to make way for the new food hall, one-third of Sundial sat empty and untouched.
In late 2020, Edwards sued the team behind Armature Works alleging they intentionally delayed construction to acquire the property at a discount.
Three months ago, two entities linked to the proposed food hall at Sundial filed for bankruptcy, thereby delaying litigation and cancelling future plans.
With so much growth happening in downtown St. Pete, this seems like the perfect time to revitalize the struggling shopping center. Details on new tenants and future modifications to the property will be released over the next few months.