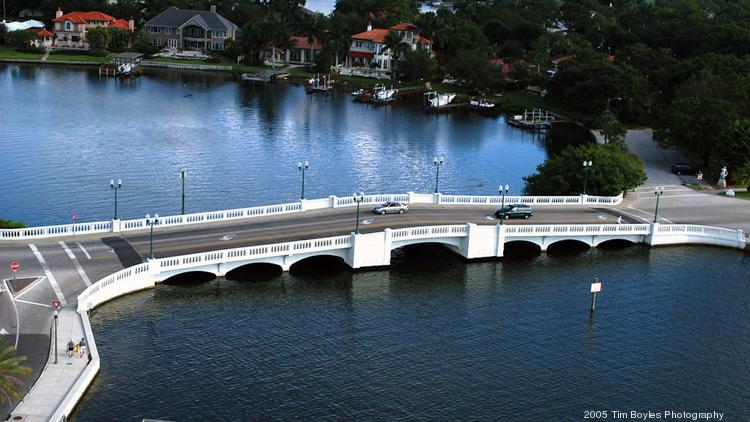 The city of St. Petersburg and the rest of the state expect to benefit from the U.S. Department of Transportation's recently-launched Bridge Repair / Replacement, Rehabilitation, Preservation, Protection and Construction Program.
The program was created by the Infrastructure Investment and Jobs Act passed in November. Secretary of Transportation Pete Buttigieg announced the program's rollout on Jan. 14 in front of Philadelphia's MLK Jr. Drive Bridge, which has been closed to vehicular traffic since a failed inspection last year.
Despite its impressive record on maintaining bridges, Florida will also see some dollars coming its way soon.
The state will receive at least $244.9 million across five years and $49 million in fiscal 2022 to replace deficient bridges. Compare that to Pennsylvania, where Buttigieg made the announcement, and those amounts are relatively small. It's helpful for the bridge repair that Tampa Bay needs.
Pennsylvania has a population of 13 million and over 3,000 bridges in poor condition, setting itself up for $1.6 billion in formula bridge funding across five years. Florida's population stands at 21.54 million but claims only 408 poor bridges.
Newly sworn-in St. Petersburg Mayor Ken Welch was among the first to celebrate the new program, citing its importance to one of his administration's top priorities: climate resiliency.
"I am grateful to the Biden Administration, including Transportation Secretary Pete Buttigieg, for their dedication to infrastructure improvement and climate resiliency," Welch said in a release.
On Tuesday, Governor Ron DeSantis made his dismay toward Florida's bridge funding levels clear, arguing that the federal government's "inadequate" allotment is a disservice to the state's growing population.https://ebb6493bde97c9c13d3a7250f79ca269.safeframe.googlesyndication.com/safeframe/1-0-38/html/container.html
"The Biden Administration continues to punish states that are succeeding," DeSantis said in a release. "Despite obstacles created by the Biden Administration, the State of Florida continues to thrive and foster an environment that draws new residents and tourists every single day. By doing so, Florida has continued to grow, and our infrastructure must be able to keep up the pace. The Biden Administration though is short-changing Florida yet again."
The city of St. Petersburg owns 82 vehicular bridges. The 40th Avenue bridge over Placido Bayou is the 10th most traveled structurally deficient bridge in Florida, according to the American Road and Transportation Builders Association. However, that bridge is not slated for funding through this program, as funding has already been secured, and construction is underway.
Welch's administration pinpointed 10 other bridges in need of repairs or replacement. They are listed below with expected costs. The city hasn't identified specific projects to seek funding for, spokeswoman Janelle Taylor said.
Snell Isle Boulevard at Coffee Pot Bayou — $20 million
Overlook Drive NE at Smacks Bayou — $12 million
1st Avenue N at Bear Creek — $4.8 million
7th Street N at Gateway Canal — $4.5 million
7th Street S at Salt Creek — $3.7 million
62nd Avenue S at Maximo Channel — $3.5 million
Burlington Avenue at Booker Creek — $2 million
58th Street N at Bear Creek — $2 million
Dr. Martin Luther King Jr. (9th) Street N at Turner Creek — $1 million
2nd Street N at Tinney Creek — $850,000
The allocation of bridge funds marks the first of many transportation-related funding announcements related to the federal infrastructure bill. Water system funding was already reported.
How the money is spent is an issue of national importance but also one of regional focus for Tampa Bay business leaders. The Urban Land Institute, which has an office in Tampa, recently launched a report titled "Prioritizing Effective Infrastructure-Led Development" in light of the bill.
The report encourages real estate developers to "identify and promote more equitable and resilient infrastructure investments that create both long-term real estate and community value."
Bruce Katz, urban policy expert and director of the Nowak Metro Finance Lab at Drexel University, wrote that the devil will be in the details.
"There is no doubt the scale of these investments, in toto, is substantial. But the question is what we are spending these dollars on and whether those expenditures are sufficiently targeted to alter the economic, environmental and social path of our country," Katz wrote.