39-acre mixed-use project moving forward near Gandy Blvd
On Monday, The St Pete Community Planning and Preservation Commission (CPPC) unanimously approved amendments to a mixed-use development agreement that would bring residential units, a restaurant, and a public marina to Snug Harbor.
The currently vacant, 39-acre property is south of Gandy Blvd and East of San Fernando Blvd NE and consists of three combined parcels known as Gandy Center, Pirates Cove, and Riviera.
The original development agreement, approved in 2009, outlined plans to build 120 apartment units, a commercial marina with 45 wet slips, 72,000 square feet of retail space, and three restaurants comprising 21,000 square feet on the northern portion of the property, along with 256 single family or townhome residential units and 225 private docks on the southern parcel.
After Monday's hearing, that agreement was modified, replacing the retail space with a 37,800 square foot public marina that houses 200 dry slips in addition to the 45 wet slips outside. Additionally, total restaurant space was reduced to 8,000 square feet, or one restaurant instead of three restaurants.
No changes were made to the number of residential units; plans outlining 376 total units, or a 120 unit apartment complex in the northern parcel and 256 residential units in the southern two parcels, remain intact. However, the approved amendments remove the specification that the latter 256 units be limited to single family or townhomes, allowing more flexibility in the design process.
Summary of the Proposal:
Gandy Center / Pirates Cove (North) – Zoned Planned Redevelopment Mixed Use
120-unit apartment complex
37,800 SF high and dry public marina building with 200 dry slips
45 public wet slips
One 8,000 SF restaurant, instead of originally proposed three restaurants at 21,000 SF
(No longer plans for 72,000 SF of retail)
Riviera (South) – Zoned Residential Urban
256 residential units, no specifications about housing typology
225 private wet slips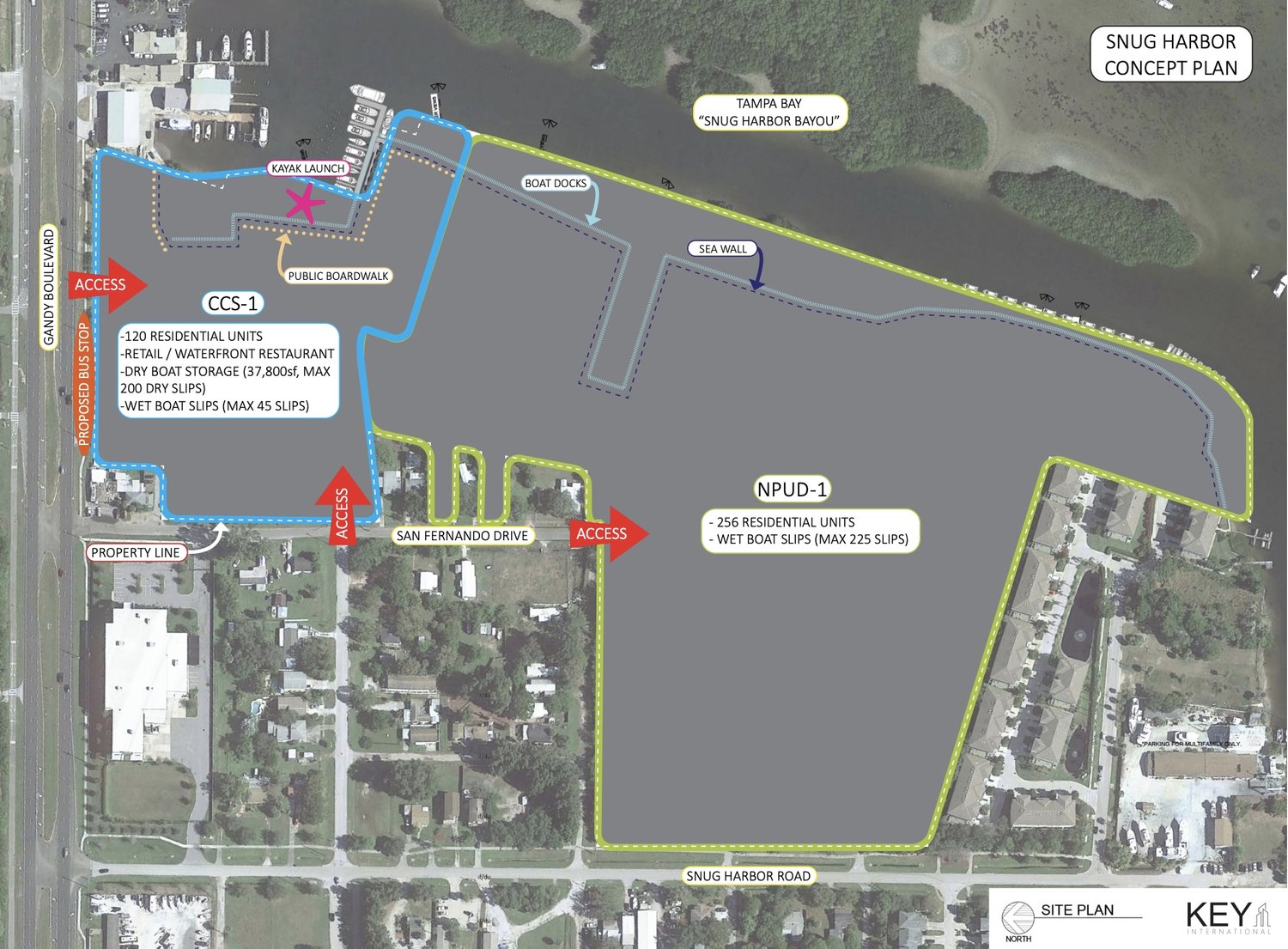 For the public benefit, the proposal outlines several obligations of the developer, including requirements to construct a PSTA bus stop and shelter, a canoe and kayak launch, a public waterfront boardwalk, and a public pedestrian connection to the public marina facility. As part of the agreement, the developer will maintain the canal and provide public access.
Miami-based Key International is listed as the applicant. Key International's real estate portfolio features a mix of residential, commercial, and hospitality properties scattered across the southeastern United States and southern Europe. In October, the company sold a Residence Inn by Marriott and SpringHill Suites on Clearwater Beach.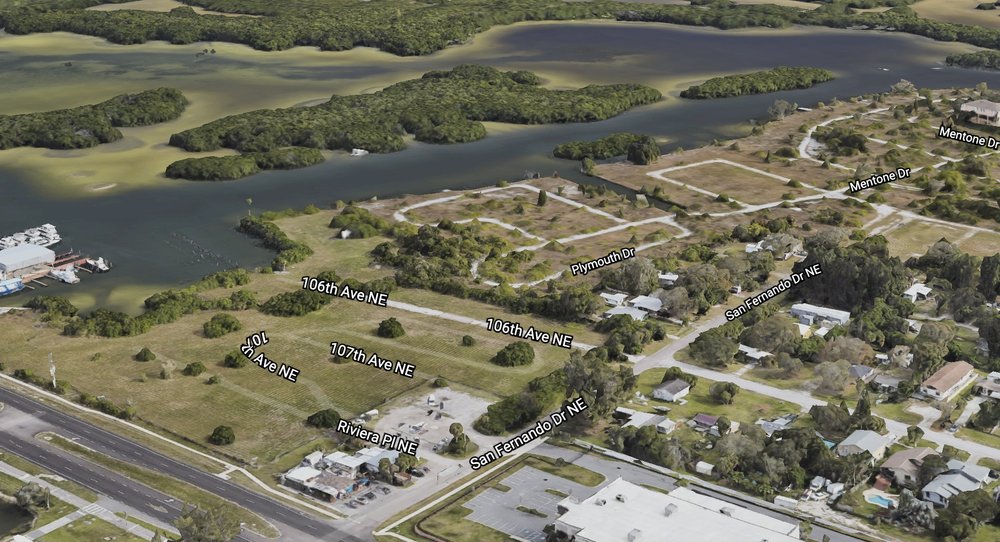 Prior to the original development agreement approval in 2009, the Gandy Center/ Pirates Cove parcel contained 4,300 square feet of commercial retail, 833 square feet of office/marina with 55 wet slips, and 64 mobile homes. The Riviera parcel was developed with 256 mobile homes, 57 wet slips, and a clubhouse.
In 2009, it was determined that the proposal outlined in the development agreement was consistent with the city's Comprehensive Plan.
Although not a part of the original agreement, it was noted that the owners are "seriously considering" including workforce housing in their final plans, pending an updated review, according to Elise Batse of Stearns Weaver Miller Weissler, who spoke at Monday's hearing on behalf of the property owners – listed only as Gandy Harbor I, LLC, Gandy Harbor II, LLC, and Gandy Harbor III, LLC.
The City did receive some public comments surrounding land use prior to Monday's hearing, and these types of requests will be addressed in future hearings that more specifically deal with site plan approval. Monday's amendment approval hearing focused exclusively on updating the overarching outline of the development agreement.
In other words, the CPPC's latest approval is not a replacement for the City's normal approval process for new developments – including redevelopment plan approval and City, site, and construction approvals. This project is far from breaking ground.
Next up, City Council will hear a first reading of the amendments on December 2nd, followed by a second reading on December 9th. If approved, the updated development agreement will expire in 2036.
---
A 39-acre mixed-use development near Gandy Boulevard in St. Petersburg is moving forward after the Community Planning and Preservation Commission approved amendments to a development agreement in the area.
The CPPC unanimously approved some alterations to a development agreement for the property — which is south of Gandy Boulevard and east of Snug Harbor Road — that was reached in 2009. The new plan made the following changes:
8,000 square feet of restaurant space, down from 21,000 square feet
37,800-square-foot public marina with 200 dry slips and 45 wet slips instead of 72,000 square feet of retail space
Removed a stipulation that 256 of a planned 376 residential units had to be single-family homes or townhouses
Miami-based Key International is the applicant for the project and the owners/developers are Gandy Harbor I LLC, Gandy Harbor II LLC and Gandy Harbor III LLC.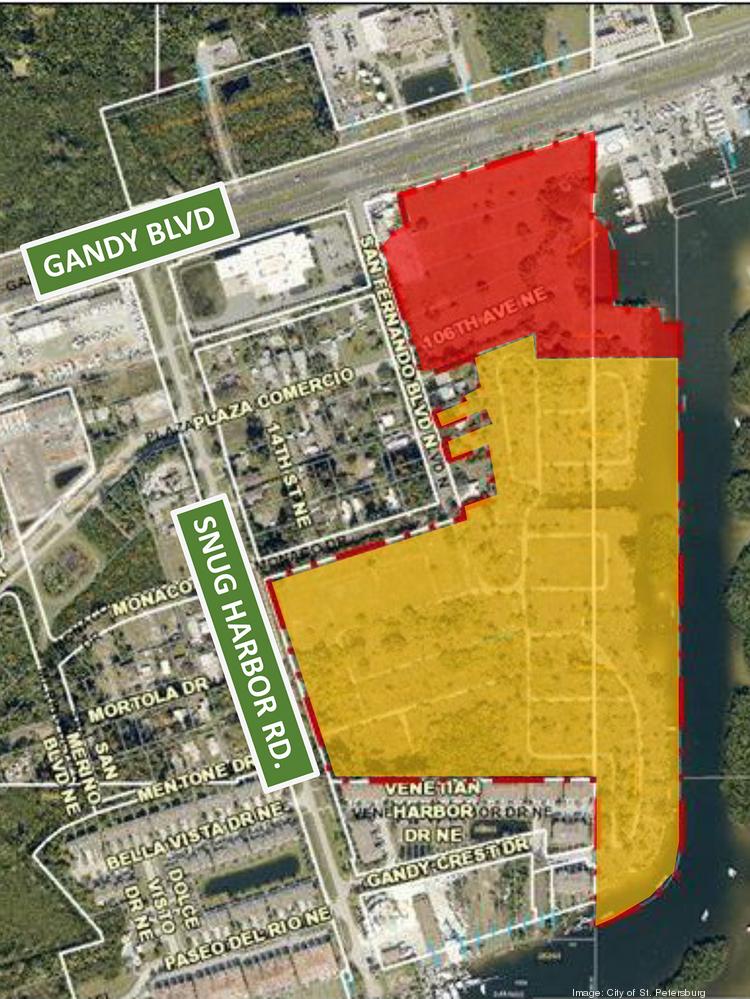 The original development agreement was set to expire in April 2029. If all of the modifications are approved by St. Pete City Council, the new agreement will expire in 2036. Council will consider the amendments on Dec. 2 and Dec. 9.
A requirement was also included to ensure the project is mixed-use. It says the restaurant will need to be finished at the same time or prior to the first multifamily building.
The modifications also eliminated a requirement for the developers to build a connection with Friendship Trail, based on a transportation analysis.
The other requirements remain: building a Pinellas Suncoast Transit Authority bus stop pad and shelter, creating a public kayak/canoe launch and public waterfront boardwalk.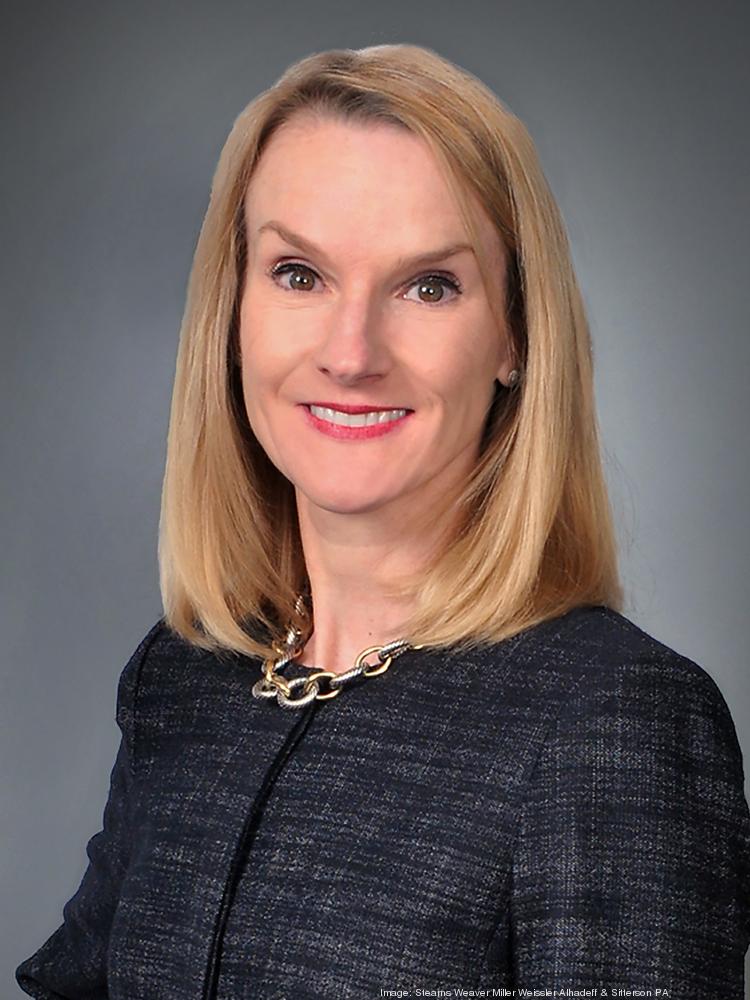 Elise Batsel of Stearns Weaver Miller Weissler, who represents the development team, said that the owners were "seriously considering" including workforce housing in the final plans of the project.
The property by the Gandy Bridge had once been considered as a possible new stadium site for the Tampa Bay Rays.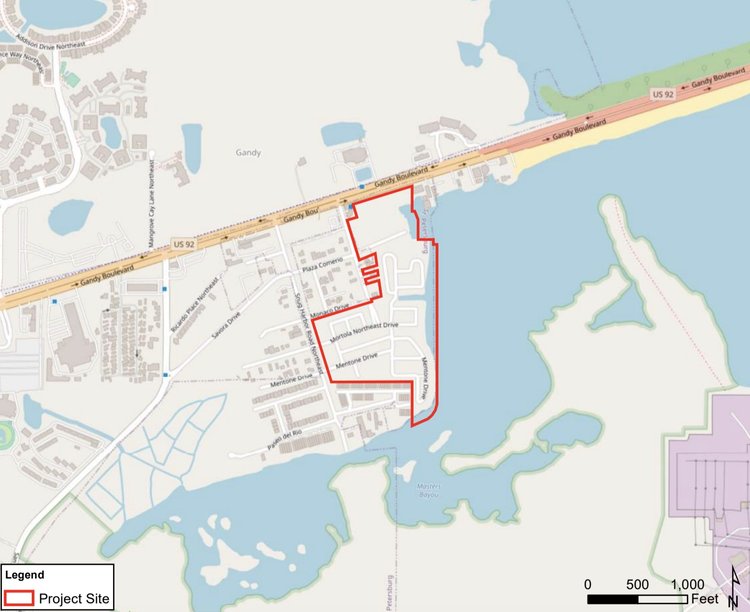 Mixed-use, 39-acre development planned along Gandy Boulevard
Published 1 week ago
on November 1, 2021
ByVeronica Brezina
An overview satellite image of the overall general area where the project will be located. GoogleMaps.
A multifamily and mixed-use development off of Gandy Boulevard is in the works.
The project, dubbed "Snug Harbor," is a planned development in St. Petersburg consisting of residential units, a restaurant, and the construction of a marina.
The project site combines five parcels that total roughly 39 acres at the southeast corner of Gandy Boulevard and Snug Harbor Road. The parcels are currently owned by Gandy Harbor II LLC and are vacant commercial properties, according to county records.
An image showing where the project will be located. SWFWMD documents.
Key International Management LLC is listed as the applicant. The Miami-based firm real estate firm has developed over 10 million square feet of residential units and has a $1.5 billion hotel portfolio. The group developed the dual-branded Residence Inn and SpringHill Suites hotel in Clearwater Beach, which recently sold.
"This [project] is in the early planning process, our priority is to gain an understanding of the community's needs and how we can thoughtfully contribute to the local fabric," said Colin Gorsuch, Vice President of Development for Key International. "We look forward to working closely with the area and delivering a project that enhances the location."
The site plans for the parcels reveal a closer look at the development. The multiple townhome buildings will have six units each along Monaco Drive and Snug Harbor Road and would be built around a pond. The plan shows at least 10 townhome buildings at the site.
There would be multiple multifamily buildings, one of which would have 120 units. In total, the site plans revealed 320 units, which does not include the townhomes. There would also be a clubhouse, leasing office and an amenity center that appears to have a dock that residents can use as a kayak launch site.
The project also calls for an 8,400-square-foot waterfront restaurant and 169 slips for the dry boat slips, as well as 101 wet slips.
The project team includes engineering consultant North Carolina-based Kimley-Horn and Associates Inc., South Florida-based MSA Architects, Tampa-based surveyor MRIC Spatial, and Fort Lauderdale-based Architectural Alliance Landscape as the landscape architect.